Short break – biketour based in one hotel Prosecco
Cycling along the Prosecco route, in the growing area of the renowned pearl wine
Difficulty Level:
Landscape:
Cycling in the Prosecco region is absolutely the best way to know this region framed in the north by the Alps and in the south by the river Piave, where green hills are covered by lush overgrown vineyards.What is waiting for you is a land full of charme, history and art, enriched by unexpected surprises bearing witness to its ancient past: fairy castles, aristocratic villas but also typical cellars where local people are keeping alive the pleasure of hospitality…
You will absolutely need to taste their delicious local products! In this area the winemaking tradition has ancient roots; the first written evidence of Prosecco dates back to 1772 and nowadays, even though sparkling wines are widespread throughout the whole country, only the product born from these particular graves, with its floral and fruity scent, can bring in the world the name of "Prosecco".
An easy/medium cycling tour suitable good for everybody, following good cycle paths and secondary roads far from heavy traffic. All overnights are in the same hotel. Particularly suitable to be covered on E-bike.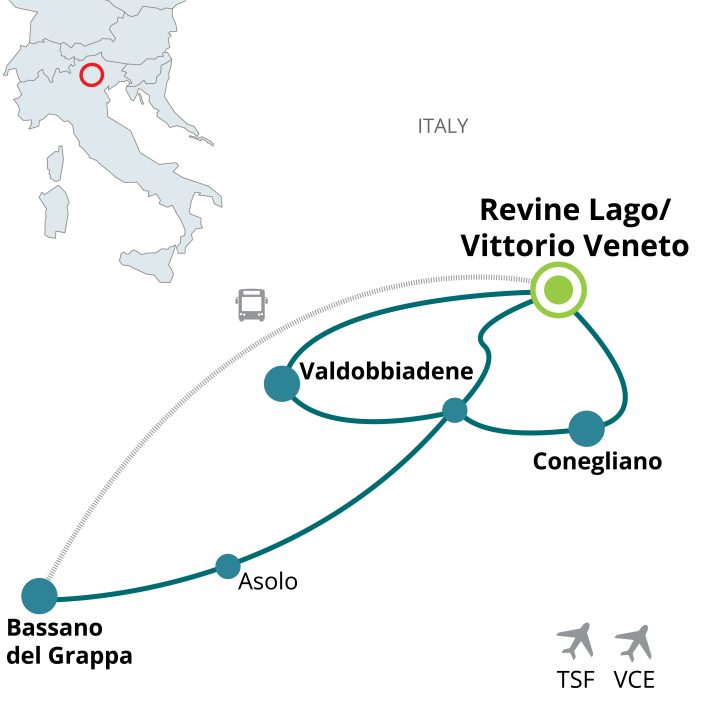 Prices and dates
It is recommended to purchase an optional travel cancellation policy. Prices valid subject to changes in the offer, omissions, printing errors or arithmetic.
Prices:
Available - arrival possible
Not Available
Available for groups from 6 persons and on request
General information
Discover all the services we offer and book one of our tours now.
By car: Motorway A27 Venezia – Belluno, exit Vittorio Veneto nord, follow direction Valdobbiadene.
By train: From Venezia – Mestre railways station, connection to Conegliano Veneto railways station or to Vittorio Veneto railways station Timetable available on: www.trenitalia.com. From there you take the bus or taxi to Revine Lago.
By plane: Marco Polo airport in Venezia, approx. 75 km from Revine Lago. Treviso airport, approx. 65 km from Revine Lago.
Accommodation in 3*** or 3***S hotel
Please note: tourist tax - if requested - to be paid on spot.
• 21-gears women's or men's bicycle
• Rental bike TOP
• E-bike (unisex bike, 500 W battery, range up to 100 km)
• Accommodation in a 3*** or 3***S hotel
• Breakfast buffet or full breakfast
• 3 x half board, minimum of 3 course evening meal
• Transfer back from Bassano del Grappa
• Personal tour information
• Well planned route
• Detailed documents (maps, route description, important phone numbers, suggestions on worthy visits)
• Service hotline during the whole tour
• Individual arrival to the starting point of the tour
• Departure at the end of the tour
• Overnight on day 4
• Drinks, tourist tax and all extras
• Lunches; dinner on they 4
• Tastings and entries
• Bike rental
• Travel Insurance
• Whatever not expressly mentioned under the item "Included services"
You might also be interested.
Discover the latest tours and choose the one you like best.