How FunActive TOURS works
Find out how our service works and find out how best to organize yourself with us.
General information
What can you expect from a booking made with us for a bike trip, a week's hiking or cross-country skiing safari?… first of all an active holiday without worries.
Our services for you:
We relieve you of all those things that can spoil your holiday mood, starting with the careful preparation and planning of the trip and ending with the providing the due  services during the trip. You will be spoilt for choice as to which trip you prefer: from that moment on, everything takes place naturally.
Booking all accommodation for the duration of your trip: you will always be a welcome guest in all our partner hotels. Once you have made your commitment – i.e. after "the day you have enjoyed your holiday" – a pleasant room awaits you for a restful sleep, so that you can fully enjoy thrt the day properly.
Information meeting: On many tours you will have the opportunity to join an information meeting during which a co-worker of ours will  explain the course of the trip, the route to follow and give you useful suggestions. And if you still have questions, just ask them.
Transporting your luggage from one accommodation to another: your luggage is not a burden! You'll be able to pedal or walk without worrying, without unnecessary weight on your back. During the day, we collect your luggage from the hotel and take it to your next accommodation, where you will find it in the early afternoon. So you can spend the day taking with what you only what you need on the road, without having to give up your favorite book for the evening.
Travel documentation with the necessary information for the journey; even if you choose the individual journey, you won't have to fend for yourself in the "wild world". We provide you with a well prepared and detailed description of the route, accompanied by maps, and provide you with further interesting information about people and countries.
Telephone assistance: you can also count on us during your trip. If you have any questions during the journey, we are available to give you information by telephone. You can make sure you will safely arrive at your destination.
Return transfer after the tour: you will cover many beautiful kilometres in the course of a week and you will be proud when you think back on the route taken by bike or on foot. You won't believe your performance! But how to get back to the starting point? No problem, we can take care of that: our minibus can take you (and your bike) comfortably back.
Many years of experience: you can take advantage of our consolidated experience in cycling, hiking and cross-country skiing. We have found the most beautiful hiking, cycling and skiing routes for you and are happy to provide you with these directions.
Type of trip
Individual travel
This means you are travelling on you own,  without a companion, you are not sharing this experience with a guide nor in a compact group. Everyone can pedal at their own pace and stop where they prefer – you are your own "boss" and you can discover the area at your own pace! Thanks to our route description and material  you will be able to find your bearings and pedal  or hike completely relaxed to your daily destination. Of course we also provide you with special cultural and gastronomic tips.
Some of our services for individual travel:
Accommodation in hotels, guesthouses or bed and breakfast, as booked
Breakfast buffet or full breakfast
If  half board is included, minimum 3 course evening dinner
Luggage transfer from hotel to hotel
Well planned routes
Detailed documents in German or English (maps, route description, places to visit, important telephone numbers)
Telephone and service hotline
Possible exceptions and extras are found in each tour description.
Group trip
Would you like to meet people and share with them the beautifu moments of your exciting holiday? We have the right solution: our group trips. You will be accompanied by our expert guide, what ensures that you follow the right route and also introduces you to the most beautiful corners of the area. He/she will always be at your disposal with nice and useful suggestions. Depending on the programme, various guided tours and the best places to eat await you. Some group tours are also "escorted" by a bus: if your legs need a little rest from time to time, you can simply get on the bus and comfortably reach your destination (details marked in each offer)..
Some of our services for group travel with companion:
Bus
Overnight stay in hotel/hotels of the indicated category
Half board: breakfast (often buffet) and three-course dinner
Luggage transport from hotel to hotel
All entrances and guides according to the programme
Travel information material
Exceptions and additional services are listed in the detailed description of the individual trips.
For group trips a minimum number of participants is required (information on individual trips).
Easy route
These trips take place with only a few metres of elevation gain and also require a low level of physical preparation. A simple bike trip for everyone.
Medium difficulty route
You have to face some hilly or even mountainous stretches. A type of journey for all those who also regularly ride in their free time.
Challenging route
These tours (especially on mountain bikes and racing bikes) require adequate basic training and a good ability to stay on the saddle for a  few hours every day without problems. These tours are not recommended if there is no adequate training. They are designed for amateurs, with the premise of regular training.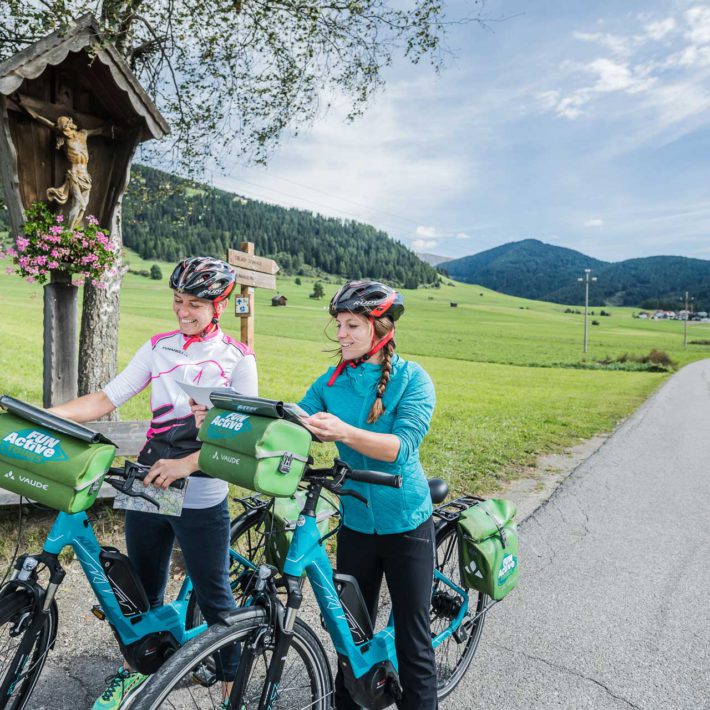 The route
Where possible, of course, you can pedal on cycle paths. In alternative you will follow secondary roads with little traffic through typical locations and idyllic landscapes. Only in exceptional cases and for short stretches should you deviate onto busy roads. Even at the entrance (or exit) to some cities you have to be aware there should be more traffic. Any case, please observe the traffic regulations.
Organisation
The trips offered are organised either by us personally or in close cooperation with carefully selected agencies. In any case we would be your point of reference for any questions or in case of problems during the trip.
Booking and payment
Please use the form provided to book your tour. The binding completion of the contract can only be undertaken in a written form. Bookings must be re-confirmed to you by FunActive Tours in a written form as well. To fix the booking  the client will pay 20% of the whole price as a down payment. The rest payment will be due  at the latest 30 days before arrival. For late bookings with less than 30 days to the start date, the whole amount must be paid immediately.
After transferring the money, please send us a copy of the transfer by e-Mail (office@funactive.info). You will be charged a fee for all changes made after confirmation.
Please note our Terms of Travel.
Bank data: Raiffeisenkasse Niederdorf
Hans-Wassermann-Str. 4, I-39039 Niederdorf
Tel.: 0039 0474 745 134
ABI: 08302 – CAB: 59100
Current account: 0300031020
IBAN: IT58M0830259100000300031020
SWIFT: RZSBIT2B – BIC: RZSB IT 21023
Accommodation
We carefully choose all the hotels and guesthouse we use, mainly 3 star establishments. All rooms are with shower or tub bath and toilet. You can find all details of the accommodation in our programme. As we only ever stay one night in any hotel, some changes may occur. In this case, you will be told about it upon arrival.
Luggage transfer
We organise the transfer of your luggage from hotel to hotel. The number of luggage is limited to one piece per person. We kindly ask you to use easy to handle luggage with a maximum weight of 20 kg.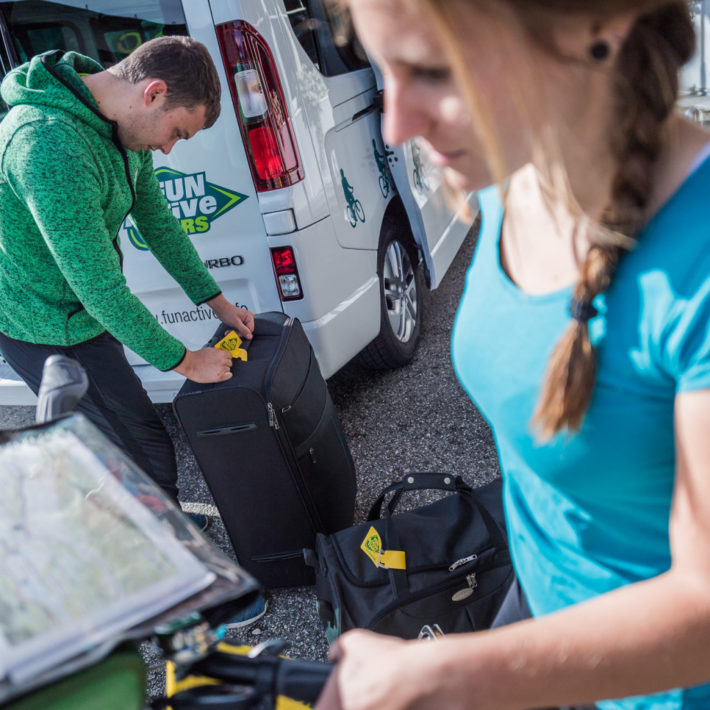 Tour information
After receiving the full invoice amount, we will send you by e-mail the  most important information and the hotel list. Detailed documents (maps, detailed route description, places to visit, extra information…) will be handed over to you at the first hotel.
Prices
All prices are per person and include all  listed services.  All prices are in Euro or in the noted currency. Services not mentioned have to be paid for separately. All information about the prices can be found in each tour description.
Travel insurance
Travel insurance is not included in the price. It is strongly recommended to obtain a cancellation insurance as well as a baggage and accident one. In collaboration with the European Travel Insurance we offer different insurances. This is valid for European citizens only. Please refer to the section "Service – Insurance" on our homepage for further information.
To Extra CEE Citizens we suggest to subscribe a Travel personal insurance in their own Country.
Service hotline
If you have some questions during your tour or if you need help please don't hesitate to contact us. The telephone hotline is manned from 8 am to 7 pm every day. Please make sure you have our hotline number with you.
Return journey
You can usually return to the starting point of journey very easily by public transport. We also organise a shuttle bus transfer for most of the tours. If you want to take advantage of this service, please reserve a place when booking the tour.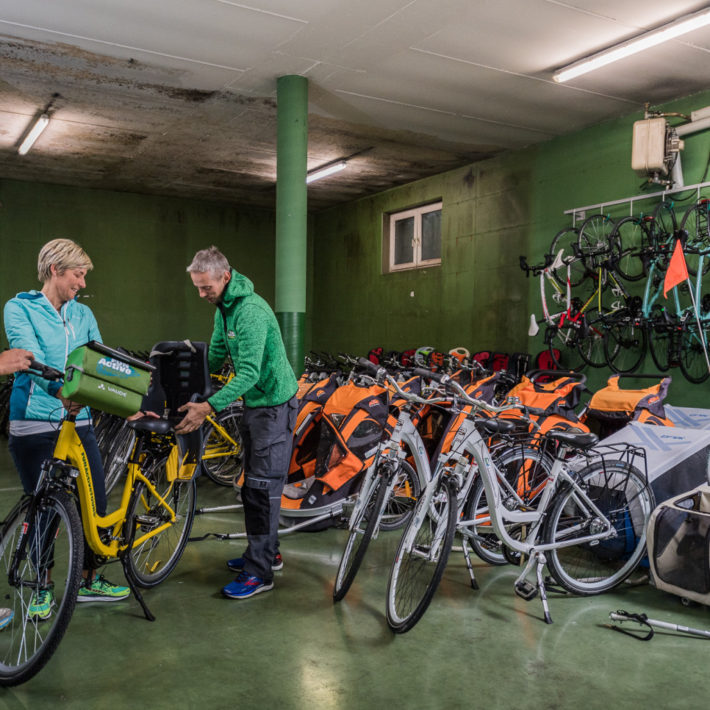 Bicycles and additional equipment
For all our bike trips, we also provide you with rental bicycles on request. All of these are 21-speed touring bikes (women's and men's models) that have been built specifically for our trips. On request, 7-speed bicycles (unisex model) with back-pedal brake are available for some trips. Only unisex bikes are available for certain trips.
Equipment
The bikes and their equipment (repair set, pump, spare tube, padlock, saddle bag, …) will be ready for you in the hotel of departure. At the end of the trip you will simply park your rented bike in the last hotel – we will take care of its return. Of course you can also use your bike. In this case we have some suggestions for you:
Make sure that your bike complies with the general safety regulations and have it checked by a specialist before you travel (brakes, lights, gearbox, etc.).
Don't forget to bring with you the appropriate repair tools and a spare tube.
We recommend that you equip your bike with the necessary equipment for journeys lasting several days. A saddle bag is certainly useful to bring a snack and the necessary for a day.
If you have booked your return transfer by minibus at the end of your journey, we will of course also transport your bike  at no extra charge. We would also like to point out that the bike mounting and transport facilities are set up specifically for our rental bikes. It is therefore possible that minor damage occur to you bicycles during the transport. We cannot accept any liability for this.
What to do in case of bike breakdowns?
Our rental bikes are checked regularly and are distinguished by their comfort and stability. Nevertheless, it is not possible to avoid a puncture here and there. For such cases you will receive a repair set with a spare tube with which you can repair a puncture. In case of larger problems, our telephone support service is available. If you are using your bicycle, do not forget to bring the appropriate repair material with you.
Bike rental:
In case of total breakage, theft, loss or damage the customer must pay € 300,00.- per trekking bike 21 gears;  € 700,00.- per E-bike, mountain bike, racing bike or tandem.
In case of inadequate treatment and/or vandalic damage to the rented equipment the customer is obliged to compensate FunActive Tours srl for any damage caused to the vehicle or parts of it the restoration according to the repair price list in force.
The customer is obliged to compensate FunActive Tours srl for any damage caused to the vehicle or parts of it
Weather
Our active travels take place outdoors, and no matter how hard we try to make sure your holiday runs smoothly, we are powerless respect weather conditions. That's why the rule of "get on your bike" or "put your shoes on" and go. With the right rain gear you can get through even a bad weather day well. And in case the rain doesn't want to stop, you can take public transport at certain stages (not included in the price!).
Arrival and return journey
When approaching the starting point of your tour, of course you will decide which means of transport to use and how to get there (car, train, plane). In the trip description we leave you some preliminary information about the approach trip.
Tips for cycling
Dress sporty
Drink a lot, especially on hot days
Protection against sun and rain (cream and sunglasses, rain cape…)
If you use your bike: we recommend a general check of the bike before the start of the trip
Each hotel has a closed and safe room where you can leave your bike
Don't forget our telephone support number
And don't forget: this is your holiday
The use of a helmet is not compulsory in all countries, but we strongly recommend, for your own safety, that you do not get on the saddle without adequate head protection. Especially children should never travel without a helmet!