How FunActive TOURS works
Find out how our service works and find out how best to organize yourself with us.
General information
What can you expect from a booking made with us for a bike trip, a week's hiking or cross-country skiing safari?… first of all an active holiday without worries.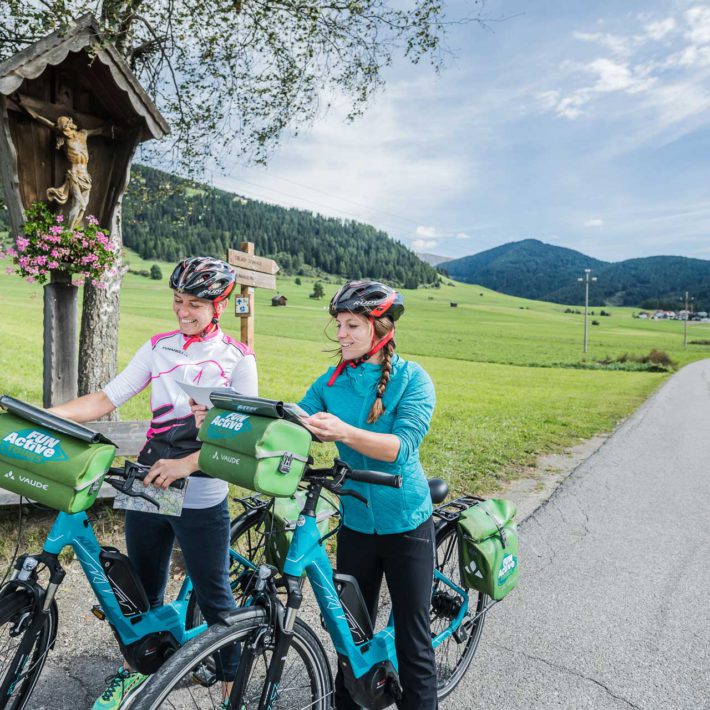 The route
Where possible, of course, you can pedal on cycle paths. In alternative you will follow secondary roads with little traffic through typical locations and idyllic landscapes. Only in exceptional cases and for short stretches should you deviate onto busy roads. Even at the entrance (or exit) to some cities you have to be aware there should be more traffic. Any case, please observe the traffic regulations.
Luggage transfer
We organise the transfer of your luggage from hotel to hotel. The number of luggage is limited to one piece per person. We kindly ask you to use easy to handle luggage with a maximum weight of 20 kg.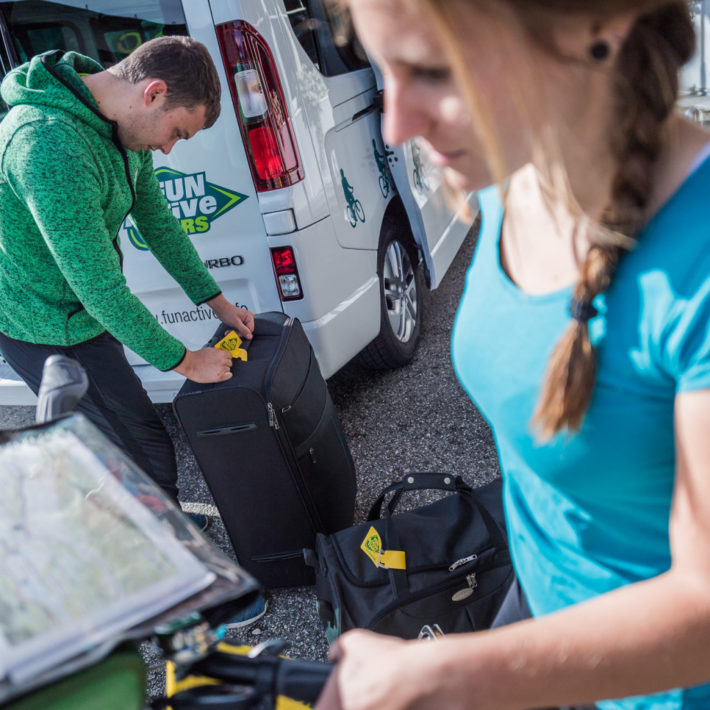 Tour information
After receiving the full invoice amount, we will send you by e-mail the  most important information and the hotel list. Detailed documents (maps, detailed route description, places to visit, extra information…) will be handed over to you at the first hotel.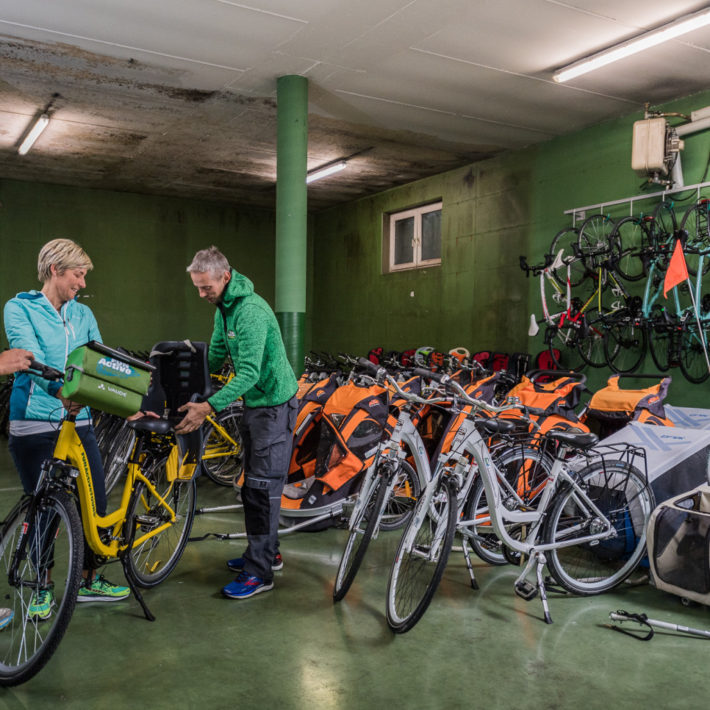 Bicycles and additional equipment
For all our bike trips, we also provide you with rental bicycles on request. All of these are 21-speed touring bikes (women's and men's models) that have been built specifically for our trips. On request, 7-speed bicycles (unisex model) with back-pedal brake are available for some trips. Only unisex bikes are available for certain trips.
Equipment
The bikes and their equipment (repair set, pump, spare tube, padlock, saddle bag, …) will be ready for you in the hotel of departure. At the end of the trip you will simply park your rented bike in the last hotel – we will take care of its return. Of course you can also use your bike. In this case we have some suggestions for you:
Make sure that your bike complies with the general safety regulations and have it checked by a specialist before you travel (brakes, lights, gearbox, etc.).
Don't forget to bring with you the appropriate repair tools and a spare tube.
We recommend that you equip your bike with the necessary equipment for journeys lasting several days. A saddle bag is certainly useful to bring a snack and the necessary for a day.
If you have booked your return transfer by minibus at the end of your journey, we will of course also transport your bike  at no extra charge. We would also like to point out that the bike mounting and transport facilities are set up specifically for our rental bikes. It is therefore possible that minor damage occur to you bicycles during the transport. We cannot accept any liability for this.
What to do in case of bike breakdowns?
Our rental bikes are checked regularly and are distinguished by their comfort and stability. Nevertheless, it is not possible to avoid a puncture here and there. For such cases you will receive a repair set with a spare tube with which you can repair a puncture. In case of larger problems, our telephone support service is available. If you are using your bicycle, do not forget to bring the appropriate repair material with you.
Bike rental:
In case of total breakage, theft, loss or damage the customer must pay € 200,00.- per trekking bike 21 or 7 gears;  € 500,00.- per E-bike, mountain bike, racing bike or tandem.
In case of theft the customer is obliged to report the theft to the competent police office.
The customer is obliged to compensate FunActive Tours srl for any damage caused to the vehicle or parts of it.
In case of inadequate treatment and/or vandalic damage to the rented equipment, the restoration will be charged to the customer according to the repair price list in force.
Weather
Our active travels take place outdoors, and no matter how hard we try to make sure your holiday runs smoothly, we are powerless respect weather conditions. That's why the rule of "get on your bike" or "put your shoes on" and go. With the right rain gear you can get through even a bad weather day well. And in case the rain doesn't want to stop, you can take public transport at certain stages (not included in the price!).
Arrival and return journey
When approaching the starting point of your tour, of course you will decide which means of transport to use and how to get there (car, train, plane). In the trip description we leave you some preliminary information about the approach trip.
Tips for cycling
Dress sporty
Drink a lot, especially on hot days
Protection against sun and rain (cream and sunglasses, rain cape…)
If you use your bike: we recommend a general check of the bike before the start of the trip
Each hotel has a closed and safe room where you can leave your bike
Don't forget our telephone support number
And don't forget: this is your holiday
The use of a helmet is not compulsory in all countries, but we strongly recommend, for your own safety, that you do not get on the saddle without adequate head protection. Especially children should never travel without a helmet!