Torino – Milano
capitals of the north
Difficulty Level:
Landscape:
From Turin, elegant and regal, the first capital of Italy, very green thanks to the hills and the four rivers, to
Milan, the capital of business and fashion, with its glamour of a great European city. An exciting journey into the green heart of Piedmont to enter, past the river Ticino, into Lombardy, the richest region in Italy. The blue of the Viverone, Orta and Maggiore lakes and the green of the many rivers and canals will remain in your eyes. The stop in Gattinara, a village famous for its wine bars, will allow you to taste excellent wines. You will stay in Pavia, ancient medieval capital and refined university city and you will discover the Certosa, a splendid monumental complex of the fourteenth century.
The entrance to Milan will take place along the historic canal of the Naviglio Pavese, where goods were once transported on barges. Finally you will reach the Darsena, in the quarter most loved by the inhabitants of Milan. Here every evening you can enjoy the ritual of the aperitif, a prelude to the delicacies of dinner at one of the many excellent restaurants. The five subway lines allow you to reach any area of the city in a few minutes.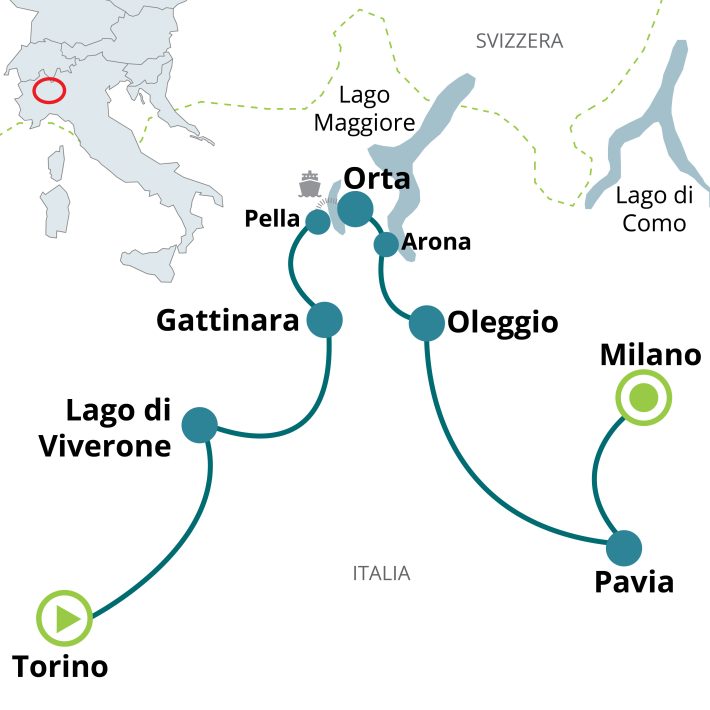 TRAVEL ITINERARY
8 days / 7 nights
Day 1:Torino
Individual arrival to Torino. Two-faced Turin, will surprise you. Former industrial city seat of Fiat, but also the first capital of Italy, full of noble residences, today it is a modern, refined and well-kept city, with large spaces and lots of greenery, perfect for a visit by bicycle. To taste the excellent cuisine and wines.
Day 2: Torino – Chivasso – Mazzè – Maglione - Viverone Lake
(approx. 67 km)
You cycle along the largest river in Italy, the Po, up to Chivasso, then continue among green hills passing through Mazzè, with its castle from which you can enjoy a beautiful view and Maglione, the town of murals, until you reach the quiet of Lake Viverone.
Day 3: Viverone – Candelo – Gattinara
(approx. 65 km)
You cross the "Serra" of Ivrea, an extensive morainic hill, then descend towards Candelo with its extraordinary "ricetto", a fortified medieval village. Continue in ups and downs between vineyards and green hills until you reach Gattinara, famous for its excellent wine.
Day 4: Gattinara – Pella – by ferry to Orta
(approx. 38 km)
You cross the Sesia river, then again in ups and downs until you reach a small jewel of Piedmont: Lake Orta. After a very pleassant ride along the western shore, you reach Pella, we you can take the ferry; passing near the island of San Giulio with its monastery, you land in Orta.
Day 5: Orta – Arona – Oleggio/surroundings
(approx. 58 km)
After leaving the delightful village of Orta, you follow a beautiful path through the hills that leads you to Arona, beautiful village that is worth a visit, with its cycle path along Lake Maggiore. In Sesto Calende you cross the iron bridge over the Ticino river and continue along the splendid embankment. Overnight in Oleggio.
Day 7: Pavia – Milano
(approx. 34 Km)
You leave Pavia along the Naviglio Grande and you will soon reach the Certosa, a medieval jewel which is recommended to visit. A few kilometers and you reach Milan, a city of a thousand facets, in constant evolution, the real economic engine of Italy.
Day 8: Milano
Individual departure or possibility to extend your stay.
General information
Discover all the services we offer and book one of our tours now.
Category A: hotel 4****
Category B: hotel 3*** e 4****
Attention: tourist tax has to be paid directly in the hotel
From Milano to Torino good train connections; timetable on www.trenitalia.com/
24-gear bicycle
electric-bicycle
We suggest a travel insurance.
Accommodation in hotels of the chosen category

Breakfast buffet or full breakfast

Personal tour information

Luggage transfer from hotel to hotel

Well planned routes

Detailed travel documents ( route description, maps, tips for sightseeing, important telephone number )

Service hotline
Arrival to the starting point of the tour

Departure at the end of the tour

Drinks and all extras

Lunch, Dinner

Not mentioned entries

Ferry from Pella to Orta (7,50 Euro per person, bike included – 2022 price)

Rental bikes and Travel insurance

All not expressly mentioned under the item "Included services"
You might also be interested.
Discover the latest tours and choose the one you like best.