Short break – based in one hotel: Apulia cycle & relax
Apulia - cycling and relaxing in the sun
Difficulty Level:
Landscape:
Apulia, the heel of the boot, is an enchanting region, a strip of land spread into the sea with a large selection of enchanting coasts for every taste. This bike tour will take you to Martano, in the well-known-Salento region, a small town located in the triangle between Lecce, Galantina and Otranto which is part of the Salentine Greece, an area where an ancient neo-Greek dialect is still spoken.
A wonderful cycling holiday is waiting for you to combine a great cycling experience together with relax: y ou will have countless opportunities to stop along the way to enjoy a regenerating bath, you will discover unique natural
landscapes, history and art will be travel companions. And at the end of the day you will return to enjoy the refined and welcoming spaces of your exclusive Charming accommodation. Nothing is missing to enjoy a perfect experience!
Easy touring, apart from a few slight ascents and descents along the route, most of this tour is along flat, tarred roads. As you are travelling out of the main season, most of the roads are mainly free of traffic.
The tour is suitable for children over 14 years.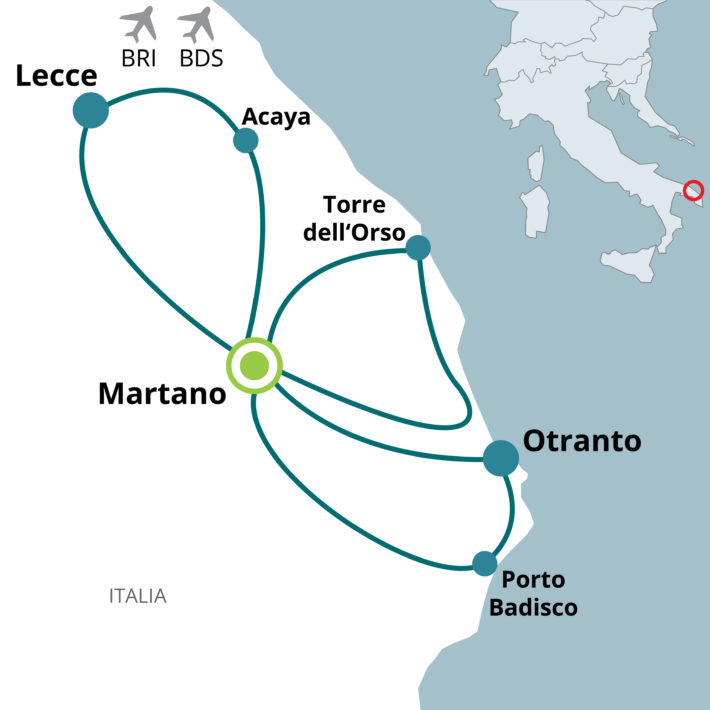 TRAVEL ITINERARY
5 days / 4 nights
Day 1: Arrival at Martano
Individual arrival at the hotel in Martano, one among the authentic Ilalian villages. The old city center is enriched by beautiful buildings characterized by valuable architectural elements such as coats of arms, portals and corner columns, a walk not to be missed!
Day 2: loop scursione Torcito Natural & Archeological Park – Laghi Alimini – Torre dell'Orso
(ca. 45 km)
The first cycling stage will initially take you to Cannole, well known for its magnificent Masseria di Torcino and the "Archaeological Natural Park". Shortly after you will reach Alimini lakes north of Otranto, a protected oasis offering the amazing view on one of the most beautiful natural landscapes in the Salento region. The sandy beach and the cave Grotta della Poesia in Torre dell'Orso will invite you to take a regenerating bath before going beck to the inland.
Day 3: loop Lecce - Natural Park Le Cesine
(approx. 65 km)
Today's excursion is full of contrasts: the lively Baroque metropolis of Lecce will delight you with the undisputed beauty of its buildings, churches and palaces; but you can also enjoy the tranquility of the off-beaten paths and the countless olive groves you will go through. Another highlight for the day will be crossing the Cesine natural reserve, a stretch of coast which is a paradise for hundreds of species of birds and other animals thanks to its numerous dunes, wetlands, mixed woods and a Mediterranean vegetation.
Day 4: loop Otranto - Porto Badisco
(approx. 58 km)
The Messapian city of Otranto is a historical-artistic jewel set in the center of an enchanting landscape. The o
Day 5: Departure
Individual departure or extension of your stay.
General information
Discover all the services we offer and book one of our tours now.
By car: directly to Martano
By train: train station Lecce (about 22 km)
By plane: airport Bari or Brindisi
The Naturalis Bio Resort & Spa is an exclusive Charming Residence situated on a promontory with a view of the Salento countryside. This is the result of a fine and careful renovation of an ancient rural village surrounded by typical dry stone walls and protected by majestic old olive trees. A unique hotel facility, the most authentic rural tradition of Salento and our careful hospitality, perfectly come together to give you an unforgettable experience.
Note: local taxes to be paied on place if any.
Possible at the hotel in Martano
By shuttle bus on request ( reservation and payment upon booking).
Transfer Bari/Brindisi airport/train station – Martano: € 100.00 per van/per way, possible daily.
E-bike (unisex bike, 500 W battery, range up to 100 km, limited availability)
• Accommodation in Deluxe double room at Naturalis Bio Resort & Spa
• Breakfast buffet or full breakfast
• Dinner (4 course evening meal)
• 1 entrance to the Wellness Spa Circuit (duration 1 hour) with hammam, emotional shower, fruit and herbal tea
• NATURALIS" bio cosmetic Kit (1 per room)
• E-bike rental
• Well planned routes
• Detailed documents (maps, route description, places to visit, important telephone numbers)
• Telephone service hotline for the entire tour
• Arrival to the starting point of the tour
• Departure at the end of the tour
• Drinks, tourist tax and all extras
• Lunch
• Not mentioned entries
• Travel insurance
• All not expressly mentioned under the item "Included services"
You might also be interested.
Discover the latest tours and choose the one you like best.