Bikes & accessories
Find out how our service works and find out how to organise yourself at best for your active holiday with us
Bicycles and complementary equipment
For all our bike trips we can provide on request bicycles to hire. All of them are 21-speed touring bikes (woman and man model) that have been specially built for our trips.  Only unisex bikes are available for certain trips. The bikes and their equipment (repair set, pump, spare tube, padlock, saddle bag, …) will be ready for you at the first hotel. At the end of the trip please simply park your rented bike in the last hotel, we will take care of its return.
Depending on the destination you have chosen and the tour you have booked the bike models and children equipment may vary, but they all correspond to our level of quality.
Of course, a bike suitable for the trip also needs the right additional equipment.
Our bicycles for rent are equipped with:
A high quality saddle bag from the manufacturer VAUDE for bicycles:
The waterproof universal saddlebag can be adjusted in different sizes thanks to the wrapped closure and can be hermetically sealed. Thanks to the symmetrical back plate it can be mounted both on the left or right side.
One VAUDE handlebar bag (per room):
The waterproof handlebar bag is ideal for everything you want to have ready quickly. Practical details: removable map pocket, KlickFix holder and shoulder strap.
Repair tool (per room) with which you can carry out the most important repairs (e.g. changing a hose) yourself
Backup hose (per room)
Air pump (per room)
Bike computer (per bike): easy to use, the most important data can quickly be retrieved (total distance, partial distance, current speed, average speed, time)
Combination padlock (per room) for safe storage of the bike
Wearing a helmet is compulsory until the age of 12, but for your safety we strongly recommend that you do not ride a bicycle without adequate head protection. If you do not have one of your own, the case can be rented from us.
You can also use your  own bicycle
Make sure that your bike complies with the general safety regulations and have it checked by a specialist before you travel (brakes, lights, gearbox…).
Don't forget to bring with you the appropriate repair tools and a spare tube.
We recommend that you equip your bike with the necessary equipment for your multyday journey. A saddle bag is certainly useful to bring a snack and the necessary for a day.
If you have booked your return transfer at the end of your journey by minibus, we will of course also transport your bike  at no extra charge. We would also like to point out that the bike mounting and transport facilities are set up specifically for our rental bikes. It is then  possible that minor damages can occur to bicycles during transport. We cannot accept any liability for this.
FunActive TOURS
Contact us
FunActive TOURS srl
Bahnhofstr. 3, I-39034 Toblach/Dobbiaco (BZ)
+39 0474 771210
office@funactive.info
Fiscal code – VAT number: IT02622710214
You can also send us your booking by e-mail or by post. Please use our booking form and fill it in completely.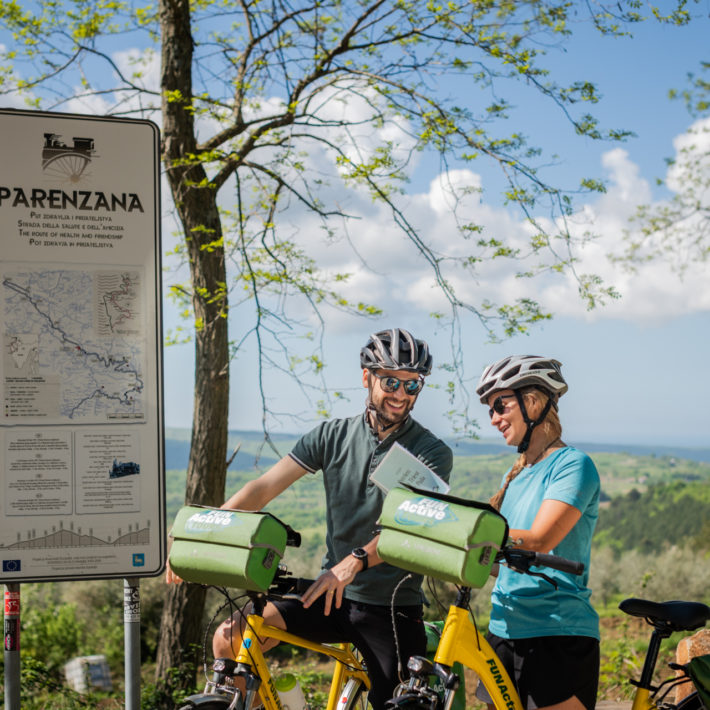 A holiday organized by real professionals
Discover all the services we offer and book now of your tours.
First of all an active holiday without worries! We relieve you of all those tasks that can spoil your good mood, starting with the careful planning and preparation of your trip and assisting you up to the provision of the various services planned during your holiday. Your only thought will be to choose which proposal you prefer among our itineraries
Our partner hotels or dedicated bike & boat trips offer you the ideal comfort to relax at the end of the day and be ready to get back in the saddle the next day. Enjoy a delicious breakfast in the morning to start the day in the best possible way!
You can also count on us during the trip. We are available every day to give you telephone information if you need it.
All departures for summer 2021
Discover the latest news and choose the one you like.